Initiative de Déclaration Conjointe de l'OMC sur le Commerce Electronique : Faire Avancer la Recherche de Convergence
English version below
Abréviations
| | |
| --- | --- |
| ADPIC | Aspects des droits de propriété intellectuelle qui touchent au commerce (OMC) |
| AFE | Accord sur la facilitation des échanges (OMC) |
| CEFACT | Facilitation des Procédures Commerciales et le Commerce Électronique |
| CM12 | 12e Conférence ministérielle |
| CNUDCI | Commission des Nations Unies pour le Droit Commercial International |
| IDC | Initiative de Déclaration Conjointe |
| MPME | Micro, petites et moyennes entreprises (MPME) |
| OIF | Organisation Internationale de la Francophonie |
| OMC | Organisation Mondiale du Commerce |
| OMD | Organisation mondiale des douanes |
| ONU | Organisation des Nations Unies |
| PDFR | Pays en Développement à Revenue Faible |
| PMA | Pays les Moins Développes |
| UE | Union Européenne |
L'Initiative de la Déclaration Conjointe de l'OMC sur le commerce électronique (« IDC ») a connu une année dynamique. A la suite de la phase des discussions exploratoires qui se tenaient en 2018, les travaux ont débouché à un nouveau niveau des négociations plurilatérales après l'adoption de la deuxième Déclaration Conjointe par les 76 membres de l'OMC le 25 janvier 2019 à Davos, Suisse. Au cours de l'année, la participation à l'initiative s'est accrue, comptant aujourd'hui quelque 82 Membres de l'OMC, dont 15 sont membres, 3 – membres associés et 21 – observateurs de l'Organisation Internationale de la Francophonie – Membres de l'OMC (voir annexe 1) et 10 pays en développement à revenu faible («PDRF ») (Bénin, Cameroun, Côte d'Ivoire, Honduras, Kenya, Lao PDR, Moldavie, Myanmar, Nigeria et Nicaragua), dont 3 (Bénin, Lao PDR et Myanmar) sont des PMA.
L'Initiative reste ouverte à la participation de non-Membres. En effet, plusieurs non-Membres sont régulièrement présents et s'engagent dans la discussion. Parmi ceux-ci, notamment le Sénégal, un PMA signataire de la Déclaration d'Osaka sur le commerce électronique, qui n'est néanmoins pas membre de l'IDC.
L'introduction de l'interprétation en français (et espagnol) pendant les réunions (bien qu'effective seulement pendant les heures d'ouvertures du Secrétariat) a d'une certaine manière facilité l'engagement des délégations francophones des PMA et des PDRF, dont les délégués et, plus encore, les responsables basés dans les capitales, sont confrontés à une importante barrière linguistique. Il pourrait être suggéré qu'une solution plus intégrale à cette question linguistique (entre autres, en assurant la traduction des autres documents distribués par les participants, les facilitateurs et les co-organisateurs) pourrait encourager davantage de délégations francophones à participer et, surtout, à s'exprimer dans les discussions /soumissions.
Dans le cadre des six groupes de discussion, l'Initiative a mené six clusters de négociation: trois clusters de trois jours en mai – juillet et trois autres clusters de quatre jours en septembre – novembre. Un total de 32 soumissions substantives ont été reçues depuis avril 2019 (voir Annexe 2), dont les 2 provenant de l'un des PDRF participants – Côte d'Ivoire – et portant sur des questions de développement (les 30 autres soumissions ont été faites par les 19 gouvernements suivants: Australie, Brésil, Canada, Canada, Chili, Colombie, UE, Indonésie, Hong Kong, Chine, Corée, Corée, États-Unis, Mexique, Nouvelle-Zélande, Pérou, Singapour, Ukraine, Taipei chinois (4 soumissions ont été faites conjointement). La soumission comprenait à la fois des documents informels et des propositions textuelles. De nombreux textes étaient accompagnés de notes exploratoires. Certaines des soumissions étaient exhaustives, tandis que d'autres portaient sur des questions particulières.
Pour des raisons de commodité, les facilitateurs de chacun des groupes de discussion ont préparé diverses compilations distribuées comme documents de séance avant les réunions. Parmi ceux-ci : des instantanés thématiques traitant des solutions textuelles proposées pour chacun des sujets discutés dans les soumissions faites (aux clusters du printemps/été) et, dans les derniers clusters, des textes rationalisés combinant les solutions proposées dans les soumissions pertinentes faites (ce dernier a été bien accueilli par les Membres participants et une rationalisation supplémentaire, en particulier pour les sujets qui, selon les facilitateurs, ont atteint, en 2020, une maturité suffisante, comme les données gouvernementales ouvertes, le commerce sans papier, la protection des consommateurs, etc.) Après chacun des clusters, des rapports succincts, qui abordent les principaux points soulevés lors des discussions, ont également été rédigés en anglais par les facilitateurs, sans toutefois attribuer les positions formulées aux membres. Tous ces documents sont disponibles sur la page web consacrée à l'OMC (sous réserve d'un accès restreint).
Lors de sa première phase, qui s'est déroulée de décembre 2017 à janvier 2019, l'IDC sur le commerce électronique s'est articulée autour de 4 thèmes : THÈME A : Favoriser le commerce numérique / E-commerce ; THÈME B : Ouverture et commerce numérique / E-commerce ; THÈME C : Confiance et commerce numérique / E-commerce ; et THÈME D : Questions intersectorielles, y compris le développement, la transparence et la coopération. Conformément aux instruments utilisés et issus des discussions exploratoires de 2018, chaque thème a ensuite été divisé en plusieurs sous-thèmes (13 sous-thèmes au total). Chaque sous-thème comprenait une ou plusieurs questions / sujets choisis (45/47 au total). Des exemples textuels n'ont été fournis que pour certains sous-thèmes et certaines questions choisies, soit 32 sujets au total.
Depuis janvier 2019, lorsque le groupe est passé à la phase des négociations plurilatérales dans une configuration légèrement différente, le cadre fut également légèrement remanié. Il est maintenant divisé en 6 thèmes, chacun – assigné à un groupe de discussion : Groupe de discussion A (THÈME A): Favoriser le commerce numérique / le commerce électronique; Groupe de discussion B (THÈME B): Ouverture et commerce numérique / commerce électronique ; Groupe de discussion C (THÈME C): Confiance et commerce numérique / commerce électronique; Groupe de discussion D (THEME D): Questions transversales; Groupe de discussion E ("nouveau"): Télécommunications; Groupe de discussion F ("nouveau"): Accès aux marchés. Comme pour la solution adoptée précédemment, chaque groupe de discussion se voit attribuer un certain nombre de questions et de sujets choisis (35 au total) qui relèvent de 15 sous-thèmes.
Alors que la majorité des thèmes énumérés précédemment sont restés à l'ordre du jour, d'autres ont été abandonnés (sans doute en raison de l'absence de mention dans les soumissions et les discussions), par exemple, "envois express", "processus de retour", "propriété des données", "protection des données industrielles", "transfert forcé de technologies". En même temps, la liste a été complétée par plusieurs nouvelles questions plus spécifiques, issues des nouvelles soumissions textuelles faites par les membres (telles que "localisation des installations informatiques financières"; "zones franches d'entrepôts douaniers"; "facturation électronique"; "Cadre de Normes pour le Commerce Électronique Transfrontalier de l'OMD"). De cette façon, l'IDC a démontré qu'elle est "vivante" et ajustable à l'évolution des idées pertinentes à mesure que les explorations et les discussions avancent.
Sur le fond, les membres ont manifesté des intérêts différents et des niveaux de convergence variés à propos des sujets discutés, même si la structure des réunions a permis à tout le monde d'être entendu et que les préférences des membres en faveur de solutions particulières ont été exprimées et enregistrées. Divers chevauchements avec les travaux en cours ont été relevés à l'OMC sur le plan multilatéral (par exemple, la mise en œuvre de l'AFE), dans le cadre de travail des autres Initiatives de Déclaration Conjointe de l'OMC, ainsi que par les autres organisations concernées, telles que le CEFACT-ONU, la CNUDCI et l'OMD. L'étendue des engagements en matière d'accès aux marchés pour les biens et services, le cas échéant, fait également l'objet de débats. Les travaux de début 2020 devraient se concentrer sur l'identification des éléments pour lesquels la convergence pourrait être à portée de main.
Il convient de rappeler que les travaux de l'Initiative de Déclaration Conjointe se déroulent parallèlement aux ceux entrepris au sein des organes ordinaires de l'OMC (Conseil du Commerce des Marchandises, Conseil du Commerce des Services, Conseil des ADPIC et Comité du Commerce et du Développement) dans le cadre du Programme de Travail sur le Commerce Électronique de 1998. Des soumissions présentant un intérêt pour les discussions JSI sont occasionnellement présentées dans ces organes par: a) les membres qui ont choisi de ne pas participer à l'IDC souhaiteraient toutefois se faire entendre (voir, par exemple, le document WT/GC/W/774, Programme de travail sur le commerce électronique : Le Moratoire Concernant le Commerce Électronique et ses Implications pour les Pays en Développement, Communication présentée par l'Afrique du Sud et l'Inde en Conseil général le 4 juin 2019) et b) les participants de l'IDC, qui souhaitent faire connaître leurs préoccupations à un public plus large (par exemple, S/C/W/382, Programme de travail sur le commerce électronique: Avantages Économiques des Flux de Données Transfrontières, Communication présentée par les États-Unis  en Conseil du commerce des services le 17 juin 2019).  Dans l'ensemble, le Programme de Travail de 1998 a montré une activité plutôt limitée en 2019. Néanmoins, une tentative de le «revigorer» a été faite par le Conseil général en décembre 2019. Le Moratoire sur les droits de douane sur les transmissions électroniques a également été prolongé jusqu'à la CM12.
Les travaux de l'Initiative devraient reprendre en février 2020, les trois clusters de quatre jours étant prévus (11-14 février ; 17-20 mars ; 28 avril – 1er mai) ainsi qu'une réunion préparatoire avant la CM12 se tenant le 20 mai. La structure des réunions sera toutefois ajustée comme suit : 2 jours seront consacrés à des discussions en petits groupes sur des questions techniques choisies à l'initiative des membres, tandis que pendant les deux jours restants, les Membres tiendront des discussions selon le format déjà utilisé à l'automne – dans les groupes de discussion précédés et suivis des séances plénières d'ouverture et de clôture. Les gouvernements participants se réuniront également lors du Forum Économique Mondial à Davos, en Suisse, le 24 janvier 2020, afin de donner une impulsion et un soutien ministériels à l'avancement des travaux avant la CM12.
Au cours de la période précédant la CM12, l'initiative pourrait gagner en transparence. Des mesures importantes à cet égard sont à l'étude, à la suite des suggestions faites par la Nouvelle-Zélande et le Canada, et pourraient être prises dès le début de 2020. Cela reste important, en particulier pour les MPME qui seront les principaux bénéficiaires du nouvel accord sur le commerce électronique.
Annexe 1: Participation des États et territoires à l'Organisation internationale de la Francophonie et à l'initiative de Déclaration Conjointe sur le Commerce Électronique à l'OMC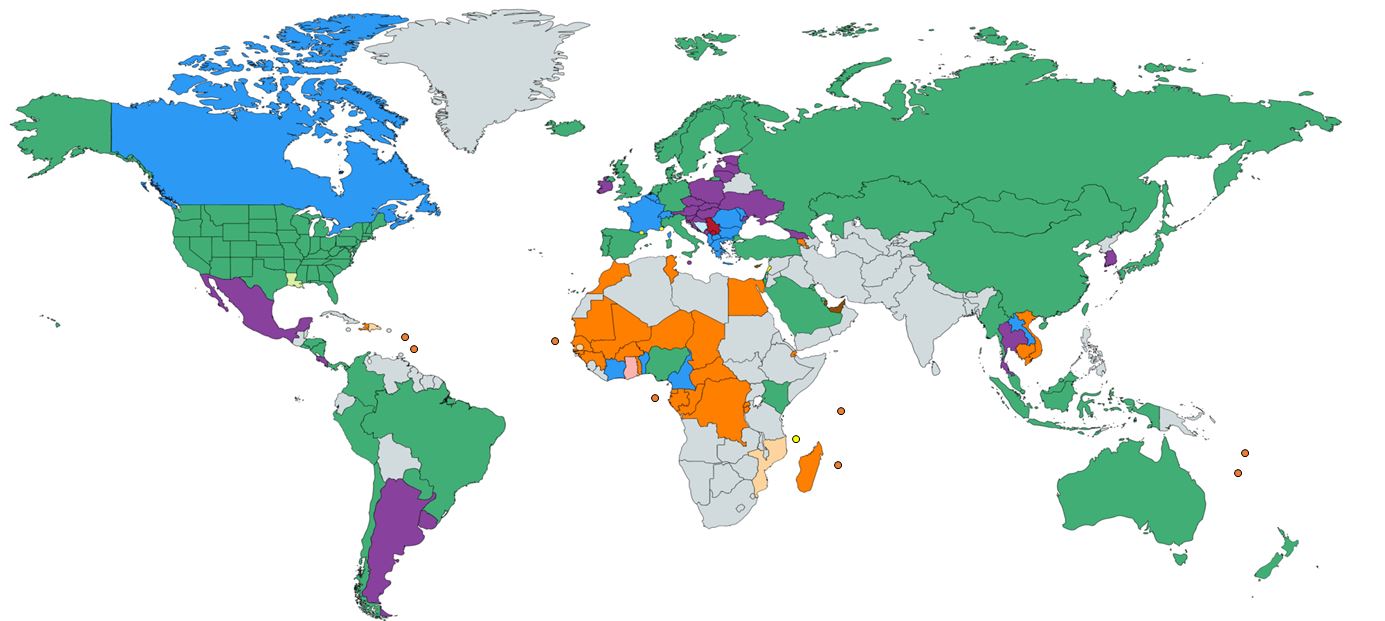 Annexe 2: Cartographie des soumissions faites dans le cadre de l'initiative de déclaration conjointe sur le commerce électronique, avril – décembre 2019 – Learn more
_________________________________________________
IDEAS Centre se consacre à faciliter l'intégration des pays en développement dans l'économie mondiale et a accumulé au cours des 17 dernières années une expérience considérable dans ce domaine. Sa mission est d'aider les décideurs politiques du monde entier à élaborer des approches pour garantir que la mondialisation peut être mise à profit pour le développement et pour lutter contre la pauvreté à la fois dans leur pays et dans un système commercial mondial plus inclusif et plus équitable. Pour plus d'informations sur IDEAS Center, visitez notre site Web: www.ideascentre.ch IDEAS Centre, 14 Rue du Mont-Blanc, 1201 Genève, Suisse T +41 552 24 80 La préparation de cette Newsletter a été financée par les fonds de l'Organisation internationale de la Francophonie (https://www.francophonie.org) 
_________________________________________________
WTO Joint Statement on Electronic Commerce:
Advancing the Search for Convergence
Abbreviations
| | |
| --- | --- |
| TRIPS | Trade-Related Aspects of Intellectual Property Rights (WTO) |
| TFA | Trade Facilitation Agreement (WTO) |
| CEFACT | Center for Trade Facilitation and Electronic Business |
| MC12 | 12th Ministerial Conference |
| UNCITRAL | United Nations Commission for International Trade Law |
| JSI | Joint Statement Initiative |
| MSMES | Micro, Small and Medium Enterprises |
| WTO | World Trade Organization |
| WCO | World Customs Organization |
| OMD | Organisation mondiale des douanes |
| UN | United Nations Organization |
| LIDC | Low Income Developing Countries |
| LDC | Least Developed Countries |
| EU | European Union |
The WTO Joint Statement Initiative on e-commerce had a vibrant year. Following the phase of exploratory discussions taking place in the 2018, the work has moved to the new, plurilateral negotiations level after the second Joint Statement was adopted by the 76 WTO Members on 25 January 2019 in Davos, Switzerland. Throughout the year, the participation in the initiative grew, now counting some 82 WTO Members. 15 of those are full, 3 – associate members and 21 – observers of the International Organization of the Francophonie (see Annex 1); 10 are Low Income Developing Countries (Benin, Cameroon, Cote d'Ivoire, Honduras, Kenya, Lao PDR, Moldova, Myanmar, Nigeria  and Nicaragua), and 3 of the latter (Benin, Lao PDR and Myanmar) are LDCs.
The Initiative remains open for participation of its non-Members. Eventually, several non-Members are routinely present and are taking part in the discussion. Among those, notably, Senegal – the LDC signatory of the Osaka Declaration on E-commerce, yet, not a member of the Joint Statement Initiative.
Introduction of the interpretation into French (and Spanish) during the meetings (albeit, only within the working hours of the Secretariat), has somewhat facilitated the engagement of the French-speaking LDC and LIDC delegations, the delegates and, even more so, the capital – based officials of which are facing an important language barrier. It might be suggested that more integrated solution to the language issue (inter alia, through ensuring translation of the other materials distributed by participants, facilitators and co-conveners) could encourage more French-speaking delegations to participate, and even more so – to make submissions.
Working in the six focus groups, the Initiative has conducted six negotiating clusters: three three-day-long clusters in May – July and another three four-day-long clusters in September – November. A total of 32 substantive submissions were received since April 2019 (see Annex 2), including the 2 originating from one of the participating LIDC – Cote d'Ivoire and focusing on the development issues (the other 30 submission were made by the following 19 Governments: Australia, Brazil, Canada, Chile, Colombia, EU, Indonesia, Hong Kong, China; Chinese Taipei; Korea, Mexico, New Zealand, Peru, Singapore, Ukraine and the US (4 submissions were made jointly). The submission included both non-papers and textual proposals. Many texts were accompanied by exploratory notes. Some of the submissions were comprehensive, while the others – limited to selected issues.
For the sake of convenience, facilitators of each of the Focus Groups prepared varied compilations distributed as room documents in advance of the meetings. Among those: topic-specific snapshots reflecting on the textual solutions proposed for each of the topics discussed in the submissions made (in the spring / summer clusters) and, in the later clusters, streamlined texts combining solutions offered in the relevant submissions made (the latter was well praised by the participating Members and further streamlining, especially for the topics that have, in opinion of the facilitators, reached sufficient maturity, such as open government data, paperless trading, consumer protection, etc., is expected in 2020). After each of the clusters, succinct reports addressing the main points raised in the discussions were also drafted by the facilitators in English, albeit without attribution of the positions phrased out to the particular members. All these materials are available on the WTO dedicated webpage (subject to a restricted access).
At its first phase lasting from December 2017 until January 2019, the JSI on e-commerce was framed around 4 themes: THEME A: Enabling Digital Trade / E-commerce; THEME B: Openness and Digital Trade / E-commerce; THEME C: Trust and Digital Trade / E-commerce; and THEME D: Cross-Cutting Issues, including Development, Transparency and Cooperation. As per the instruments used in and originating from the exploratory discussions taking place in the 2018, each theme was next divided into several sub-themes (13 sub-themes in total). Each sub-theme encompassed one or more selected issues / topics (45/47 in total). Textual examples were provided only for certain of the sub-themes and selected issues, 32 topics in total.
Since January 2019, when the group moved on to the plurilateral negotiations phase in a slightly different membership configuration, the framework was marginally reshaped as well. Now it is divided into 6 themes, each – assigned to a focus group: Focus Group A (THEME A above): Enabling Digital Trade / E-commerce; Focus Group B (THEME B above): Openness and Digital Trade / E-commerce; Focus Group C (THEME C above): Trust and Digital Trade / E-commerce; Focus Group D (THEME D above): Cross-cutting issues; Focus Group E ("new"): Telecommunications; Focus Group F ("new"): Market Access. Similarly to the solution adopted before, each of the Focus Groups is assigned a number of selected issues/ topics (35 in total) falling under 15 sub-themes.
While the majority of the topics listed earlier remained on the agenda, the new framework has abandoned some of the topics put forth prior (arguably for the lack of mention in the submissions and discussions; among such, for instance, "express shipments"; "return process"; "ownership of data"; "protection of industry data"; "forced transfer of technology"; "digital skills"; "intellectual property"; "copyright"; and "Aid for Trade") and supplemented the list by several new more specifically framed issues, deriving from the new textual submissions made by the members (such as "location of financial computing facilities"; "customs warehouses-free zones"; "electronic invoicing"; "WCO Cross-Border E-Commerce Framework of Standards"). This way the Initiative demonstrated that it is "living" and adjustable to the evolution of the relevant ideas as explorations and discussions are moving on.
On substance, Members have shown different interest and varied levels of convergence on the topics discussed, even if the structure of the meetings ensured that everybody is heard and that the preferences of the members toward particular solutions as phrased out and are recorded. Varied overlaps with the work ongoing multilaterally (for instance, the implementation of the TFA), in the other WTO Joint Statement Initiatives, as well as by the other organizations concerned, such as the UN/CEFACT, UNCITRAL and the WCO, was noted. The extent of market access commitments in goods and services, if any, is also subject to the debates. The work in early 2020 is expected to focus on identification of the elements, where convergence could be within reach.
It should be reminded that the work of the JSI is running in parallel with the work undertaken in the WTO regular bodies (Council on Trade in Goods, Council on Trade in Services, TRIPS Council and Committee on Trade and Development) within the framework of the 1998 Work Programme on Electronic Commerce. Submissions of relevance to the JSI discussions are occasionally made in these bodies by a) Members that have chosen not to participate in the JSI, however, would want to make themselves heard (see, for instance, WT/GC/W/774, Work Programme on Electronic Commerce: The E-Commerce Moratorium and Implications for Developing Countries, Communication from India and South Africa to the WTO General Council, 4 June 2019) and b) the JSI participants, who wish to convene their concerns to a broader audience (see, for instance, S/C/W/382, Work Programme On Electronic Commerce: The Economic Benefits of Cross-Border Data Flows Communication from The United States to the WTO Council on Trade in Services, 17 June 2019). The 1998 WTO Work Programme on Electronic Commerce, which has shown a rather limited activity in 2019. Nevertheless, an attempt to "reinvigorate" it for the first half of the 2020 was made by the WTO General Council in December 2019. The Moratorium on the customs duties on electronic transmissions was also extended until the MC12.
The work of the JSI is scheduled to resume in February 2020, with the three 4-day-long clusters planned so far (11-14 February; 17-20 March; 28 April – 1 May) as well as a preparatory meeting before the MC12 on 20 May. The structure of the meetings will be, however, adjusted as follows: 2 days will be allocated to small group member-driven discussions on selected technical issues, while during the 2 remaining days, the Members will be holding discussions according to the format already used in the fall – in the focus groups preceded and followed by opening and closing plenary meetings. The participating governments will also get together during the World Economic Forum in Davos, Switzerland, on 24 January 2020, in order to give a ministerial push and support for the advancement of the work before the MC12.
In the runup to the MC12, the initiative might be gaining in transparency. Important steps in this regard are being discussed, following the suggestions made by New Zealand and Canada, and might be undertaken already in early 2020. This remains important, especially for the MSMEs, the main beneficiaries of the new e-commerce agreement.
Annex 1 : Participation of the States and Territories in the International Organization of the Francophonie and the Joint Statement Initiative on Electronic Commerce at the WTO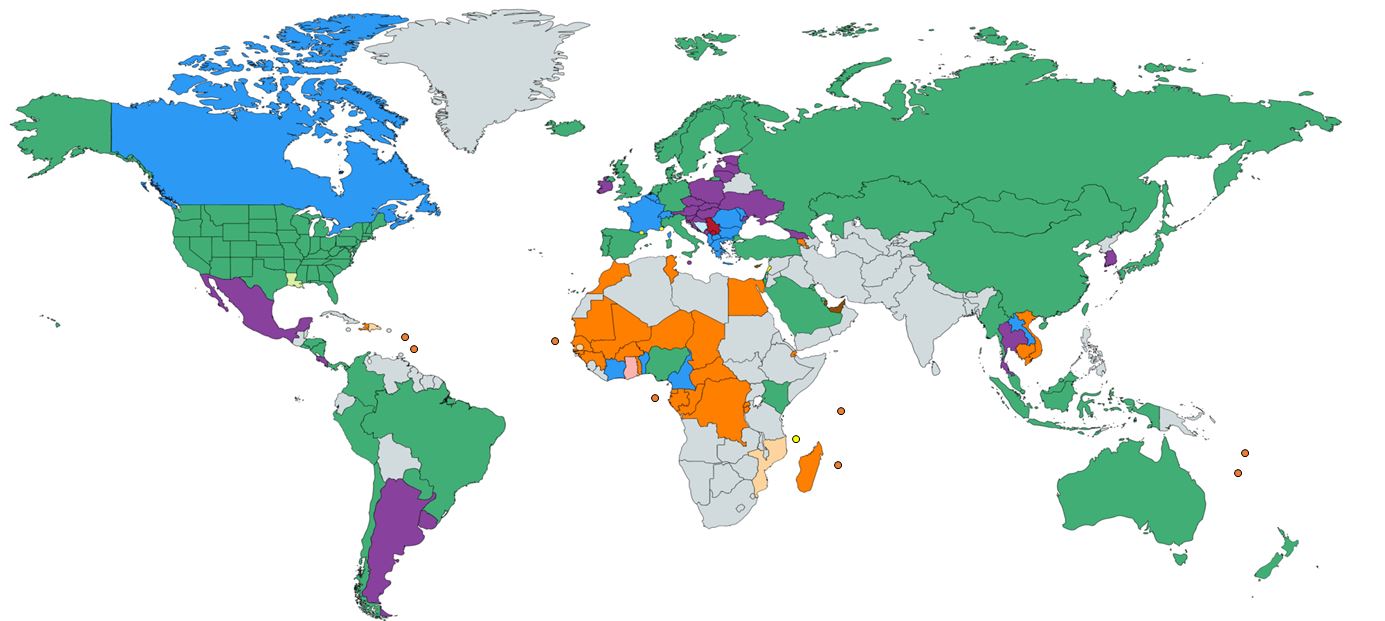 Annex 2: Mapping of the issues raised in the 32 submissions made by the participants of the WTO Joint Statement Initiative on Electronic Commerce against the framework identified by the co-conveners in the Attachment A of the Snapshot Document (12.2018) – Learn more
___________________________________________
IDEAS Centre is dedicated to facilitating the integration of developing countries into the world economy and has over the last 17 years assembled substantial experience on this issue. Its mission is to support policy-makers around the world working to develop approaches to ensure that globalization can be harnessed for development and to fight poverty both within their countries and in a more inclusive and
fairer world trading system.
For more information on IDEAS Centre, visit our website: www.ideascentre.ch
IDEAS Centre, 14 Rue du Mont-Blanc, 1201 Genève, Suisse T +41 552 24 80
The preparation of this Newsletter was supported by the funds of the International Organization of the
Francophonie (https://www.francophonie.org)
___________________________________________